TRANSFORMATION IN EDUCATION
LEARNING LOSS IN AN ERA OF EVOLUTION FOR EDUCATION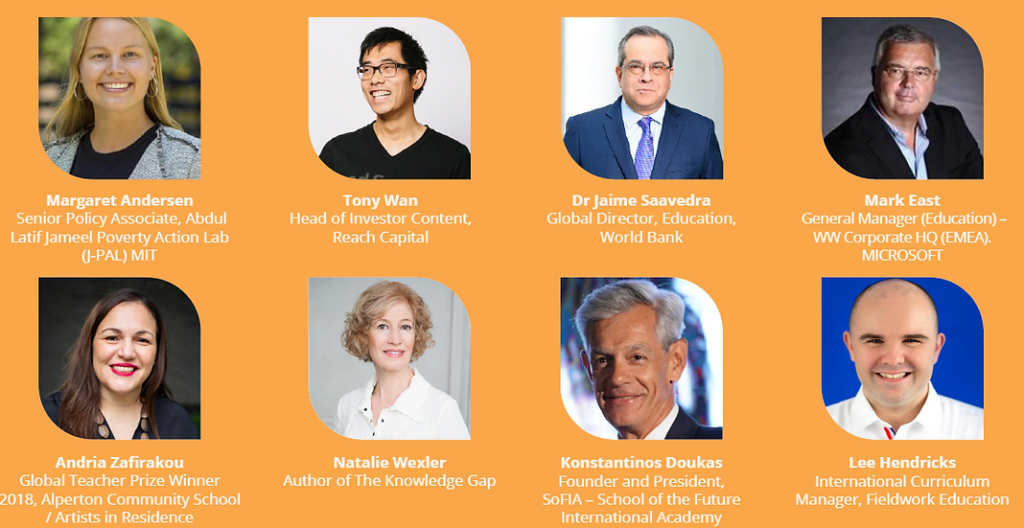 Margaret Andersen
Senior Policy Associate, Abdul Latif Jameel Poverty, Action Lab (J-PAL) MIT
Margaret Andersen is a Senior Policy Associate at J-PAL Global, where she works on the Education sector. In this position, she manages the Post-Primary Education Initiative, writes policy publications, cultivates research partnerships, and promotes evidence-informed policymaking.
Prior to joining J-PAL full-time in 2019, Margaret worked as a summer intern for J-PAL's Policy & Communications Group, spent a semester studying in Ecuador, and tutored for undergraduate econometrics courses at Boston College.
Margaret graduated summa cum laude and Phi Beta Kappa from Boston College with a BA in economics and a minor in international studies. She received the Alice E. Bourneuf Award, distinguishing her as one of the two most outstanding Economics majors in her graduating class.
 Dr Jaime Saavedra
Global Director, Education, World Bank
Jaime Saavedra leads the Education Global Practice at the World Bank Group. He rejoined the World Bank Group from the Government of Peru, where he served as Minister of Education from 2013 through 2016. During his tenure, the performance of Peru's education system improved substantially as measured by international learning assessments.
Throughout his career, Mr. Saavedra, a Peruvian national, has led groundbreaking work in the areas of poverty and inequality, employment and labor markets, the economics of education, and monitoring and evaluation systems. He has held positions at a number of international organizations and think-tanks, among them the Inter-American Development Bank, Economic Commission for Latin America and the Caribbean, International Labour Organization, Grupo de Análisis para el Desarollo and the National Council of Labor in Peru.
He has also held teaching and research positions in academia and has published extensively. Prior to assuming his role as Minister for Education of Peru, he had a ten year career at the World Bank where, most recently, he served as Director for Poverty Reduction and Equity as well as Acting Vice President, Poverty Reduction & Economic Management Network. Mr. Saavedra holds a Ph.D in economics from Columbia University and a Bachelor's degree in economics from the Catholic University of Peru.
Andria Zafirakou
Global Teachers Award winner 2018, Alperton Community, School / Artists in Residence
Andria Zafirakou, a teacher at Alperton Community School in Brent, was crowned the best teacher in the world when in 2018 she won the Global Teacher Prize.
Born in north-west London to Greek-Cypriot parents and state-educated in Brent and Camden, Andria began her career as an art and textiles teacher in her home suburb, one of the world's most ethnically diverse places.
Passionate about education and changing the lives of young people and underserved communities through creativity, she has worked her entire teaching career of 16 years at Alperton Community School is now an Associate Deputy Headteacher leading on Staff Development, Diversity and Transitions.
Using the $1m prize money awarded by the Global Teacher prize, Andria founded a charity called Artists in Residence (AiR) with an aim to improve arts education in schools.  
Named in the top 10 of The Evening Standard's 1,000 Londoners List, Andria is a Culture Leader for the World Economic Forum as well as a member of their Global Future Leaders Council.  She sits on the Advisory board for the Cultural Leaders Alliance, Art UK and was the winner of the prestigious GIWA (Greek International Women's award) for Arts and Culture in 2021.  Her debut and best-selling book "Those who can, Teach" was published by Bloomsbury in April 2021.
 Natalie Wexler
Author and Education
Journalist, Forbes Natalie is the author of The Knowledge Gap: The Hidden Cause of America's Broken Education System–and How to Fix It (Avery 2019), and the co-au thor with Judith C. Hochman of The Writing Revolution: A Guide to Advancing Thinkin g Through Writing in All Subjects and Grades (Jossey-Bass 2017).
She also has a free Substack newsletter called Minding the Gap, https://nataliewexler.substack.com/, and she works as a senior contributor on educati on to Forbes.com.
Her writing has also appeared in The Atlantic, The Washington Post, The New York Times, and other publications. To learn more about Natalie, vis it her website, https://nataliewexler.com/.
 Tony Wan
Head of Investor Content, Reach Capital
Tony Wan is Head of Investor Content at Reach Capital, overseeing editorial projects and thought leadership in support of the Reach team, its portfolio and the broader education technology ecosystem. 
Prior to Reach, Tony was a co-founder and managing editor at EdSurge, where he oversaw newsroom operations and covered business and investment trends in the edtech industry. He was named one of Forbes' "30 Under 30" in Education in 2014 and received an Education Writers Association Reporting Fellowship in 2020. Before that, he co-founded an edtech startup that developed a game best described as "Zelda with math." 
Tony has an M.A. in East Asian Studies from Stanford University, and B.A. in History from the University of California at San Diego.
Mark East
General Manager (Education) – WW Corporate HQ Europe, Middle East & Africa (EMEA) MICROSOFT
Mark East is responsible for the EMEA Region for Education leading a team of approx. 300 people dedicated to helping Institutions transform education through the efficient & effective use of information technology. Mark is located in Dubai scaling across EMEA time zone with accountability for K12, Higher, Further Education, Libraries and Museums reporting into Anthony Salcito, global VP of Education for Microsoft in Seattle.
Mark joined Microsoft UK in 1988 to establish Microsoft UK's Education division. In 1990, he was awarded the Microsoft UK President's Award in recognition of his work serving Education institutions throughout the UK.
Since joining Microsoft, Mark has managed teams in Enterprise, Small Business, Home & Retail and Channel infrastructure and latterly specializing in Public-Sector. Mark was appointed to the Microsoft UK board or directors in 2000.
Mark lived in Seattle, Washington for 2 years whilst leading the worldwide Education group before returning to the UK to provide Education leadership to Europe, Middle East and Africa. In September 2005, Mark was awarded the Microsoft achievement award for sustained high level contributions to Microsoft leadership in the education community.
In 2007, Mark was appointed chairman of Digital Pipeline, a UK registered charity, whose aim is to empower communities through access to technology  www.digitalpipeline.org. Mark is involved in many philanthropic projects. In 2008 he built a secondary school in the Mauta village on Mfangano Island, Lake Victoria, Kenya and is now sponsoring Students who graduate from the school to attend University, one of which recently graduated as a teacher. More recently he has supported the development of a research centre for Gorillas in the Bwindi hills of Uganda. 
Before joining Microsoft, Mark spent 8 years with a Microsoft partner – Micro Facilities – having worked for them part time whilst he was at college student initially training to be a Micro Computer engineer and ending up leading their sales & marketing team focused in Public-Sector.
In his spare time, Mark enjoys spending time with family and researching materials for the historical novels he hopes to write when he retires. He is an ardent supporter of the UK football club Queens Park Rangers (QPR), having worked for the club in his youth. He is "still" learning to play golf.
Konstantinos Doukas
Founder and President, SoFIA – School of the Future International Academy
Konstantinos Doukas is the President and CEO of Doukas School (www.doukas.gr), a private education institution with a tradition of more than 100 years. As a third-generation owner, previously or parallel with his work at the school, Konstantinos held several teaching, research and administrative positions mainly in the private sector, specifically as Systems Manager Assistant at the TC Computer Lab of Columbia University (NYC), Scientific Consultant to Project
Athena at the Massachusetts Institute of Technology (Boston, MA), President & CEO, at the Information Society SA (www.ktpae.gr) and several boards of directors positions.
As an entrepreneur, he has founded several start-up companies in Greece and also
Internationally, most of them still in operation, mainly in the area of technological innovations, use of ICT in education, supporting services in education and digital marketing services.
He is the founder and Chairman of SoFIA (School of the Future International Academy, www.sofianet.org), an International NGO focusing on supporting educational institutions and schools that wish to excel academically and operationally, by using global best practices and innovative methodologies.
He is also the co-author of more than 11 publications in Greek and International
Conferences and Journals and co-editor of 5 Greek Conference Proceedings. Recently he was the co-editor of the IGI Global Edition 2018: "Handbook of Research on Educational Design and Cloud Computing in Modern Classroom Settings".
He holds an Electrical Engineering and Computer Science BSc from the National Technical University of Athens and an MA in Communications, Computers and Technology in Education from Columbia University (NYC). In the past 20 years, Konstantinos has been a regular speaker at conferences on education, technology and the future of education in the USA, Europe and the Middle East. He was born in 1964 has a family with 3 kids and his hobby is sports.